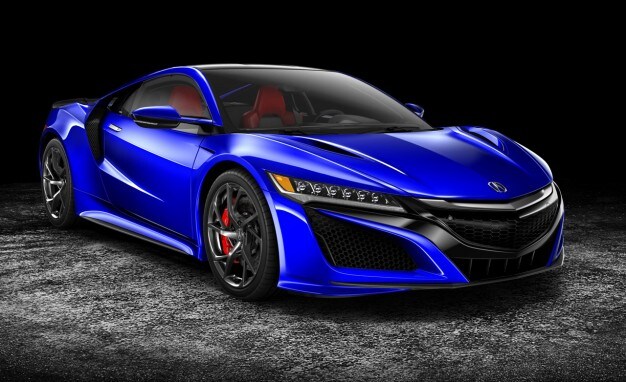 Starting at a gee-that's-almost-attainable $157,800, Acura's resurrected NSX sports car toes a narrow pricing line between high-performance Porsche 911 variants and established supercars such as the McLaren 650S, Ferrari 488GTB, and the Lamborghini Huracán. We have yet to line up the NSX for a head-to-head comparison test against its rivals, but came away impressed by its three-electric-motor hybrid system and twin-turbo V-6 after a first-drive opportunity. It may be priced somewhat low, even, given how its powertrain more or less mimics those in million-dollar rides like the Porsche 918 Spyder and the McLaren P1. To us, the NSX has the chops—visually and technically—to punch at a higher price point. With Acura having just activated its online configurator for the NSX, complete with options and pricing, we decided to build one the way we think it deserves to be built—which is to say, richly.
MODEL:
2017 Acura NSX (base price: $157,800)
For the NSX's base price, you get all of its performance. Every NSX ships with three electric motors., two driving the front wheels and a third integrated with a twin-turbocharged V-6 to motivate the rear wheels; everything combines to deliver 573 horsepower. The front two motors can provide torque vectoring on the front axle, a seven-speed dual-clutch automatic cracks of lighting-quick gearchanges for the V-6/aft electric motor combination, and everything's gravy. So does it matter that, besides those vital statistics, the NSX comes standard with full-LED exterior lighting, a backup camera, dual-zone automatic climate control, active noise cancellation, and leather covering the seats, door panels, dashboard, and center console?
OPTIONS:
Nouvelle Blue Pearl paint ($6000)
Carbon Fiber Exterior Sport package ($9000)
Carbon-fiber rear spoiler ($3000)
Carbon-fiber engine cover ($3600)
Upgraded painted black wheels ($1500)
Carbon-ceramic brake rotors ($10,600)
Semi-Analine Leather / Alcantara power seats ($1500)
Black faux-suede headliner ($1300)
Carbon fiber Interior Sport package ($2900)
Audio and Technology package ($3300)
Carpet set ($1200)
[Source: http://blog.caranddriver.com/how-wed-spec-it-the-2017-acura-nsx-best-equipped-for-the-supercar-hustle/ ]