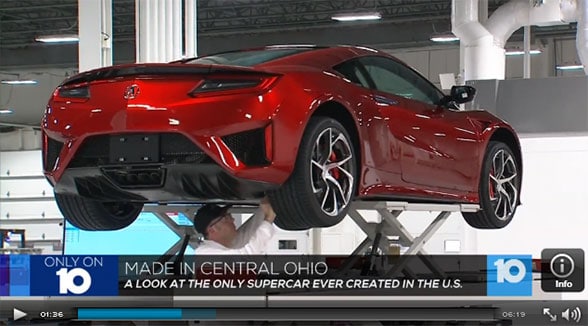 MARYSVILLE, Ohio - Did you know your neighbor or family member is making automotive history? It's happening right here in our backyard of Marysville.For the last four years in Marysville, a few hundred Honda employees have been quietly engineering, building, painting and testing Acura's hybrid supercar - the NSX. Here's the history making part: no foreign car company has ever built what's called a 'halo' car in America until now. When Honda's Japanese management gave this project the green light years ago, they're turned to the workforce they trusted to get the job done – the Ohio workforce. In fact, some Acura employees said they thought their Japanese counterparts would be very hands-on, considering the NSX is the most ambitious car Acura has ever built. Welding engineer Chuck Henkel said, "When I got on the project, I thought there would be a lot of Japanese oversight. Because this has got to be successful; it's a halo car. It's got to be the best car we've ever built. That oversight wasn't there. It was really the American team allowed the freedom to develop this car all by ourselves.""This is their investment coming full circle in me and all the other folks," Global development Chief Ted Klaus adds.The NSX is being built in a plant called the Performance Manufacturing Center (PMC) in Marysville. It is opposite of any image you might have of the word 'factory'. You could eat off the floor at PMC. It was built just to make the NSX. Nothing else. There's no assembly line. The car goes from work station-to-work station when it's ready. There are no walls. The plant was designed to be open and airy so all employees can connect with each other personally. Plus it promotes a total team effort. The only walls are glass. Even the paint department has glass walls. The more we toured the PMC the more Ohio connections we found to the NSX. The engine is hand built by engineers in Anna, Ohio. The paint is made by an Ohio company – PPG. Depending on the color, up to 11 coats of paint can cover the car The NSX has a notebook full of cool features and fun facts but here are just a few:
Nearly 600 horsepower generated from 4 motors
The chassis and body panels are measured to an accuracy of one-third of a human hair's width.
The driver can choose the kind of driving experience you want: Quiet, Sport, Sport+ and Track
Once the PMC is at full production 8-10 NSX's will be built daily.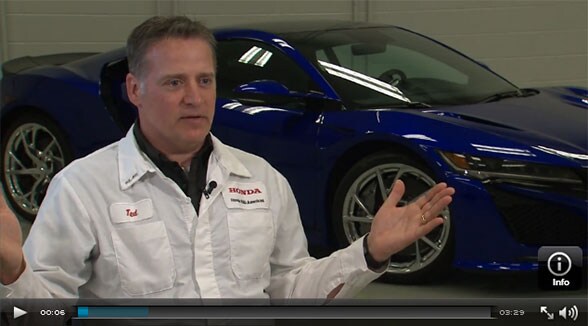 The Ohio workers know there's also a lot of pressure to make this car a success. For one, it has to sell, and in order for it to sell, it has to compete with the world's best and win over what could be a skeptical automotive press. A lot is on the line with the performance of the car. Also, will car enthusiasts pay $150,000 to $200,000 on an Acura? Werner Wilson has been with Honda more than 30 years and says "It's a point of pride but also a little bit of pressure. To make sure you get it right." Shannon Spence said she's "a little nervous. Just a little."The NSX team may be nervous, but they are mostly excited and ready for the car to hit the road. Chuck Henkel summed it up best: "Yes, Ohioans in the heartland of America can really develop an American/Japanese supercar."Full production at PMC starts soon and the 2017 Acura NSX goes on sale later this spring.