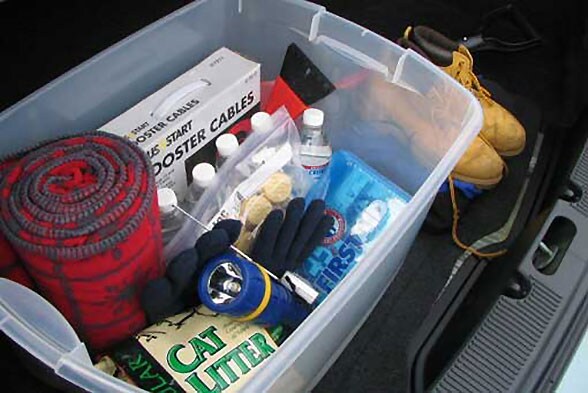 As cooler weather settles in, and along with it dangerous road conditions, you don't want to get caught unprepared.
Plan ahead, and you'll have what you need in case and be prepared -- for whatever emergency comes your way.
Here's what you need:
●A basic toolkit.
With a screwdriver, pliers and more, you can get yourself out of any situation.
●Flashlight.
You never know when you'll need some extra light! And don't forget to stock plenty of extra batteries, too.
●
A car charger.
Sure, you may keep one up front with you, but what would happen if that charger died and you were stranded on the road? Better safe than sorry when it comes to having a fully charged cell phone.
●Food.
Keep a few non-perishable food items in your car in case you're stranded or stuck in a snowbank.
●Ice scraper.
Now that winter's around the corner, you need to be ready to clear of the windshield for optimal visibility.
●Jumper cables.
You can jump your own car or help a neighbor!
●Spare tire.
Check the condition of your tire and replace it if necessary.
●First aid kit.
This kit should contain the standard items, like some gauze and bandages.
●Warm clothing.
If you head out on the road and forget your jacket, you'll be glad to have a few items in which to layer up if you have to walk for help.
●Shovel.
If you get stuck in the snow, you'll need a shovel to dig your car out.
●Sand or kitty litter.
These items will help give you traction if you can't get the car moving on ice.
●Water.
Staying hydrated is key during an emergency.
With a properly stocked car emergency kit, you can confidently hit the roads this winter. For help choosing a vehicle that will keep you safe in all seasons, or to schedule seasonal maintenance for your vehicle, call Park Acura today!