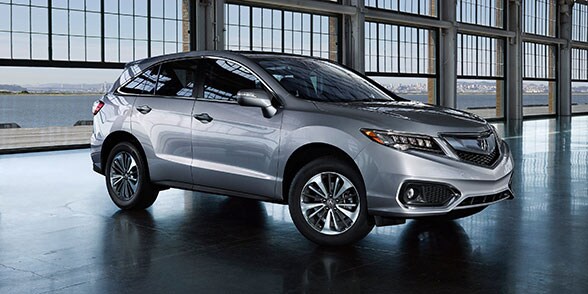 Roseville, CA- On a recent vacation, cruising along the interstates, city streets, Puget Sound waterways, and mountainous terrain in the Seattle region, was an effortless chore for the 2017 Acura RDX.
The RDX is a very stream-lined, attractive, luxury crossover sport utility vehicle that thankfully supplied plenty of comfort and convenience as my wife and I toured the scenic Northwest region for nearly a week.
Unchanged for 2017, it was nice to recall that last year's improvements for the Acura RDX included delivering more performance (additional horsepower and torque), and a new trim level that bundled technology more than previous models.
There's some tough competition out there for the RDX, including the BMW X3, Mercedes-Benz GLK Class, Audi Q5, and Lexus NX 200t. The RDX comes with an enviable price tag of $35,570 for the base model. But note that some of its rivals provide more standard features and technology.
2017 Acura RDX
• Performance: 3.5-liter, V6, 279 horsepower
• Price: $35,570 to $43,720
• Mileage estimate: 19-29 mpg
• Warranty: 4 years/50,000 miles; drivetrain 6 years/70,000 miles; corrosion 5 years/unlimited; roadside assistance 4 years/50,000
From an exterior viewpoint, the RDX is quite attractive. The front end recently added LED headlights, and other changes included more defined creases and aero vents. Acura's signature Jewel Eye LED headlights are already part of the MDX, RLX and TLX vehicles.
The Acura RDX delivers good performance with a 3.5-liter, V6 that produces 279 horsepower and 252 pound-feet of torque. A six-speed transmission comes standard with the RDX, directing power to either the front wheels or to the revised all-wheel-drive system. The RDX can get you there in a hurry - going 0-60 mph in 6.5 seconds.
What's cool about the RDX is it can shut down three cylinders in light load or highway driving, which adds a little boast to the fuel economy. Acura gets an estimated 19-29 mpg, depending on whether you're driving the standard front-wheel drive or the all-wheel drive version.
The RDX combines good acceleration in all driving situations and does it with a smooth and quiet ride that makes for a pleasurable driving situation. The midsize SUV maneuvers well around town and has lots of passing power for freeway driving.
Highway road trips are navigated easier due to the AcuraWatch, the collection of safety and driver-assist technologies that include adaptive cruise control, lane-keeping assist, departure warning, collision warning and mitigation, and available blind-spot warning.
Both front and back seat occupants will be pleased with the RDX's roomy and comfortable seating. It provides excellent head and leg room, plus front-seat occupants have standard seat warmers for additional comfort. There is solid storage space in back and the cockpit layout makes sense and is easy to master.
The 2017 Acura RDX is a modern luxury SUV that is reasonably price d and has long-term reliability. There are many strong amenities that come with this well-priced vehicle.
SOURCE [
http://www.rocklintoday.com/news/templates/community_news.asp?articleid=15773&zoneid=4
]