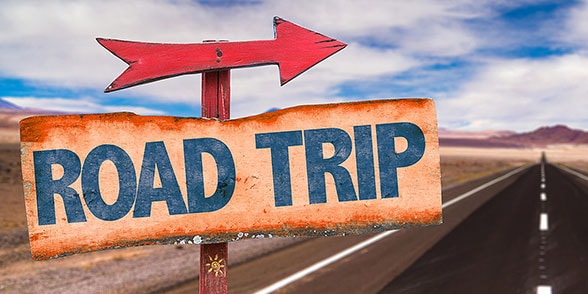 There's nothing like getting out onto the open road with a few friends or your family and exploring new destinations -- especially as the weather warms up.
Before you get behind the wheel, use these tips to make the drive entertaining and safe.
Here's what you can do:
Navigate. If your car doesn't have a navigation system, don't worry. You can purchase a system and install it on the dashboard. These usually come preloaded with maps to help you navigate your trip. Your smartphone may also have a navigation program. Be sure that you mount the phone on the dashboard so that you can easily see the map and don't have to look away from the road to follow directions. Before you start out on your trip, make sure you know how to use the program and get familiar with its features.
Cruise. Give your leg a rest and ensure you're driving within the speed limit by using cruise control. You should know how to use the controls before you head out, so spend some time locally getting to know how it works and have the ability to slow down and speed up.
Pack. Keep hunger and thirst at bay by packing a cooler with drinks and snacks. These will help keep the driver alert and the passengers from grumbling.
Entertain. Create a playlist before you hit the road to entertain the entire group. It's also a fun experience to listen to an audiobook or podcast during the road trip, so be sure to download a few to your phone before you leave.
Pay. Look ahead at the route you're going to take and identify roads that require toll. Make sure you have money to pay the tolls, because not every toll road booth will accept debit or credit cards.
Get comfortable. To help passengers comfortably pass the time, bring pillows and blankets. And toss in a lumbar roll or padded seat to give the driver extra support.

Park Auto Group is here to help ensure every trip you take -- whether local or long distance -- is a safe one. Call us anytime with your questions!