Welcome to our Acura high mileage club page.  This is where you can submit photos and story of your high mileage Acura.  We have found that there are a lot of proud Acura owners with upwards of at least 200K on their vehicle.  We want you to be able to share your success story with all of our other customers and fellow Acura owners.  To submit your story and photos, simply send an email to
contact@parkautogroup.com
with the following...
1. Your name
2. Your vehicle information...year/model/mileage
3. A short story about your Acura
4. Make sure to attach your photos to the email
We will make an effort to post new photos and stories on a monthly basis, so be sure to check back frequently.
---
This is our pal Clement "Clem" Hardin.  Clem is the original owner of a 2005 purchased on 3/5/05. Clem's car on his last visit has now hit
301,102 miles. We have been the only dealership servicing Clem's car from day one.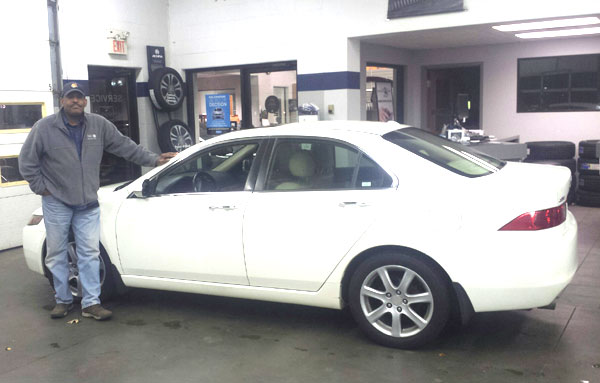 ---
Here is a photo of Kevin T. with his 2005 Acura RL. The current mileage on Kevin's RL is 233,705. Keep up the great service Kevin !!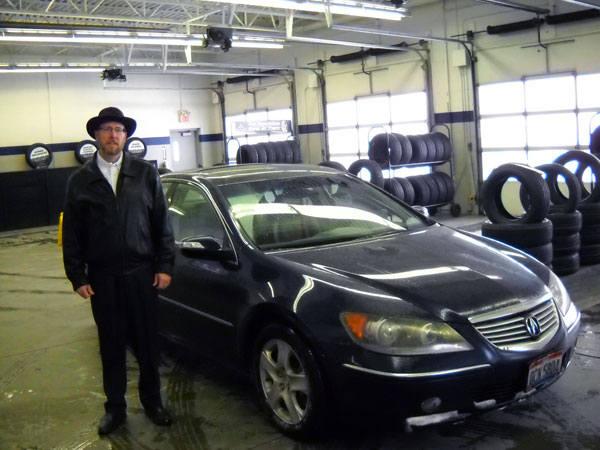 ---
Pictured below is Mike A. with his Acura SUV with over 213,640 miles on it.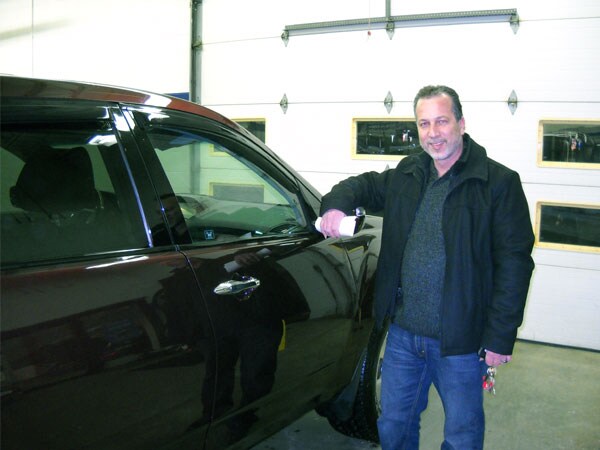 ---
Dr. Robert S. is the proud owner of this 2002 Acura TL purchased new from us on 6/11/01. His TL has been serviced exclusively at Serra Acura. The current mileage on this vehicle is 209,066.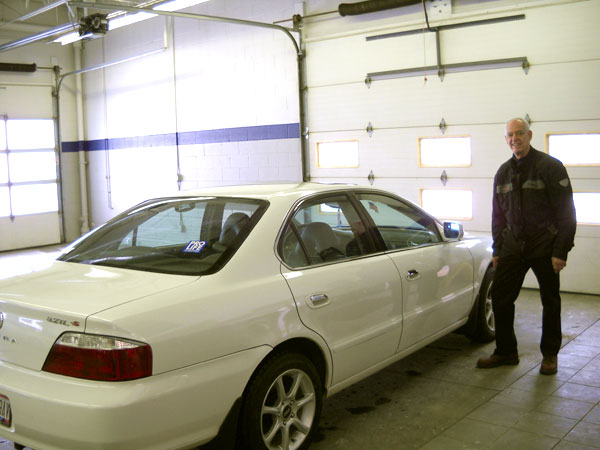 ---
This is Dave M. and his 2004 MDX. Dave's Acura has 204,035 miles on it !! Great job taking care of that MDX Dave !!!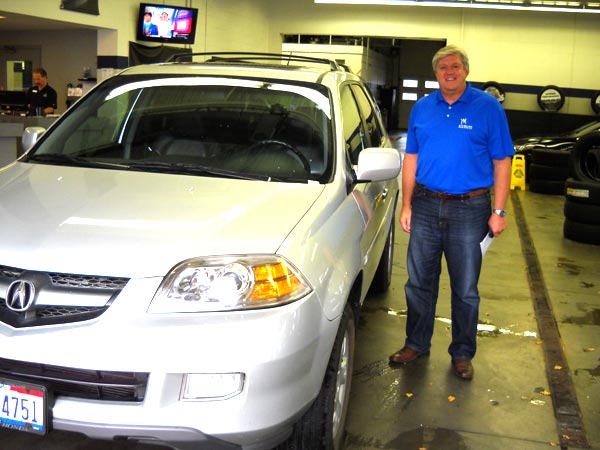 ---
This is Helen with her 2004 MDX. Helen purchased her MDX on May 26th, 2004 and has returned to our service department since then.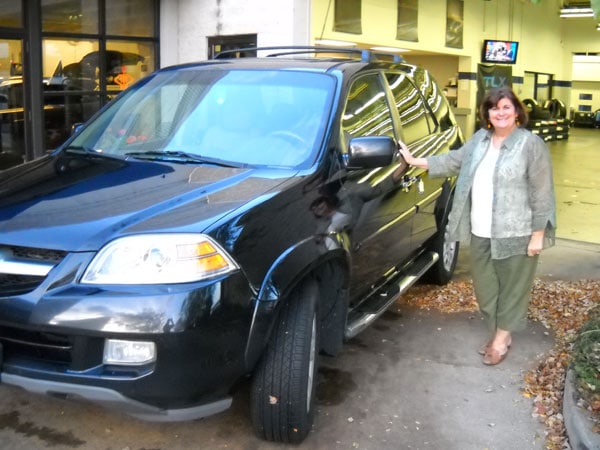 ---
Rick Hilles with his 2002 TL that he purchased new.  It currently has 256,646 miles on it. Keep up the great work of taking care of your Acura, Rick !!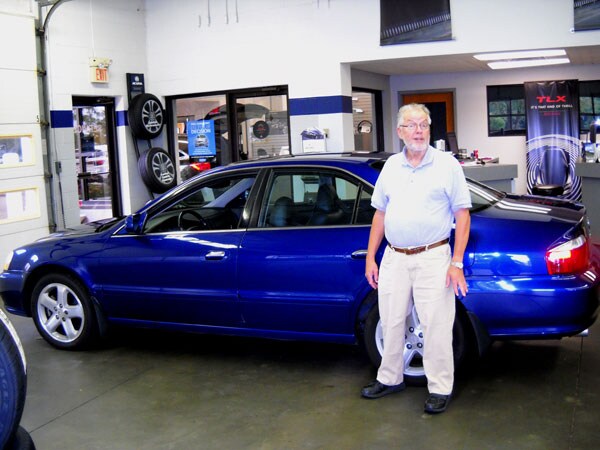 ---
Say hi to Dave Sutter and his 2006 MDX that he is the original owner of. It currently has 207,431 miles on it. Dave mentioned that he has three Acuras and one Honda that all are serviced at Serra.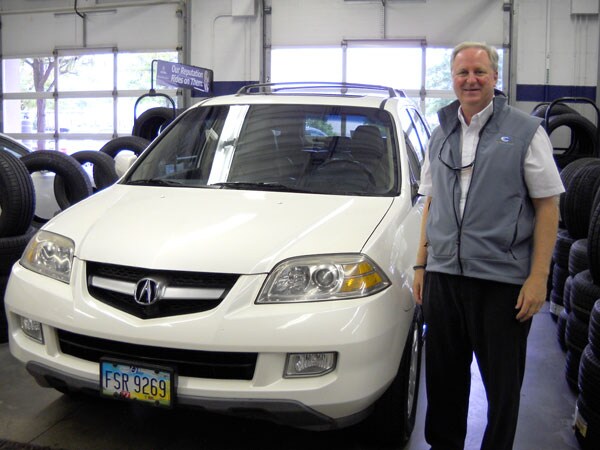 ---
This is Chuck Safron and his 2004 Acura RL he purchased 10-16-2003.  The RL currently has 222,422 miles. Chuck is the Original owner.  He says other than regular maintenance along with its third timing belt, the RL has been great and still rides as smooth as ever.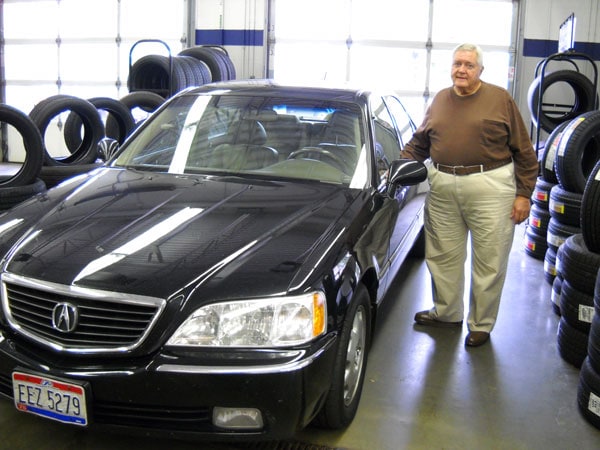 ---
This is Todd V. and his 2002 Acura MDX.  Todd is the original owner of this vehicle, he purchased the vehicle from us on 10/31/02 and as of his last visit on 8/16/14 the milage on his MDX is at 309,571 miles....not too shabby !!!!! Routine maintenance with Certified Acura Technicians really pays off. Thanks for the photo Todd and keep on truckin' !!